Welcome to Downtown
It's no wonder that an increasing number of residents are so drawn to the city's energetic hub. Downtown is dotted with historic reminders of the enterprising frontier town Austin once was (see the built-for-a-cattle-baron Driskill Hotel) and is abuzz with the creative energy of the start-ups and tech companies that have been relocating here.
Zip Code: 78701
MLS Area: DT
Population: 9,427
Founded: 1839
School District: Austin ISD
Most homes built between: 2000 and 2009
Average Household Income: $165,912
Time to Airport: 19 minutes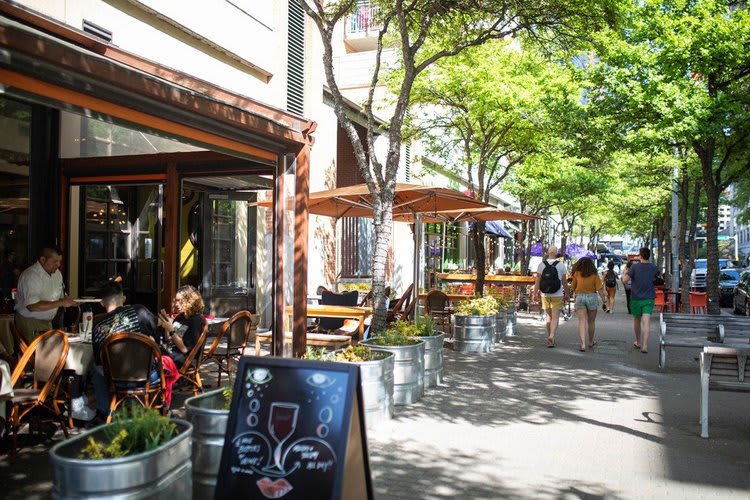 What to Expect 
Downtown's sidewalks hum with office workers and scooter-riding visitors, but they become noticeably more mobbed on weekend evenings and during the city's headline-making festivals, like South by Southwest. The local joke is that the official bird of Austin is the construction crane.
The Lifestyle
Both tourists and business professionals are happily surrounded here by a full spectrum of fine restaurants, food trucks, and watering holes, particularly around Sixth Street and Rainey Street. And, as you would expect of the self-proclaimed Live Music Capital of the World, there is an abundance of worthy nightlife venues. Most retail is centered around the 2nd Street District.
Unexpected Appeal
Downtown's southern boundary kisses a shimmering stretch of the Colorado River. Urban dwellers (and their pups) enjoy the well-maintained trails along the river's edge and fill the smooth waterway with a small flotilla of stand-up paddleboards and kayaks.
The Market
Single-family homes are the outliers here. Instead, downtown's ballooning population has largely traded yards and rush-hour headaches for the horizon-scanning views and balconies of the many luxury high-rise buildings that have gone up in the last decade.
You'll Fall in Love With
Unlike a lot of urban cores, Austin's downtown is anything but staid. Just like the rest of the city, the vibe here is mellow and down-to-earth, as evidenced by the many friendly gathering spots and beer gardens, like the creekside Easy Tiger and the 1866 Scholz Garten.